Working with a large group of people, especially on family photography, can be tricky for many reasons – from dealing with many different characters, trying to capture the perfect shot of kids who easily lose focus to having the shoot go smoothly and then realize you're not completely happy with the pictures.
Even the experienced photographers could use some tips regarding poses, gear and relationship with family members in order to get natural family portraits. Of course, in case you are not so experienced, you will find here some family picture ideas as well.
First things first
Before you think of specific family portrait ideas, you will need a certain amount of information, so you can be sure that your concept of creative family photos responds to the family and given circumstances well. Here is what you should find out beforehand.
How location fits in your concept?
Canvass the sight for shooting ahead of time so you can have concrete idea of how the photo session is going to look like and whether you should bring props such as chairs.
How big of a group are you dealing with?
Ask about the number of family members that photo session will include, so you can plan ahead some poses and setting of a photography shoot.
What are the roles in family?
If it's a larger group, don't forget to ask about relations of family members, so you can group them, be aware of what interactions you should be capturing and, most importantly, who you should not exclude from inner grouping.
What about generations?
A great tip is to ask if there's going to be kids, babies or pets because these groups are especially demanding, and toys, treats or other props are much needed.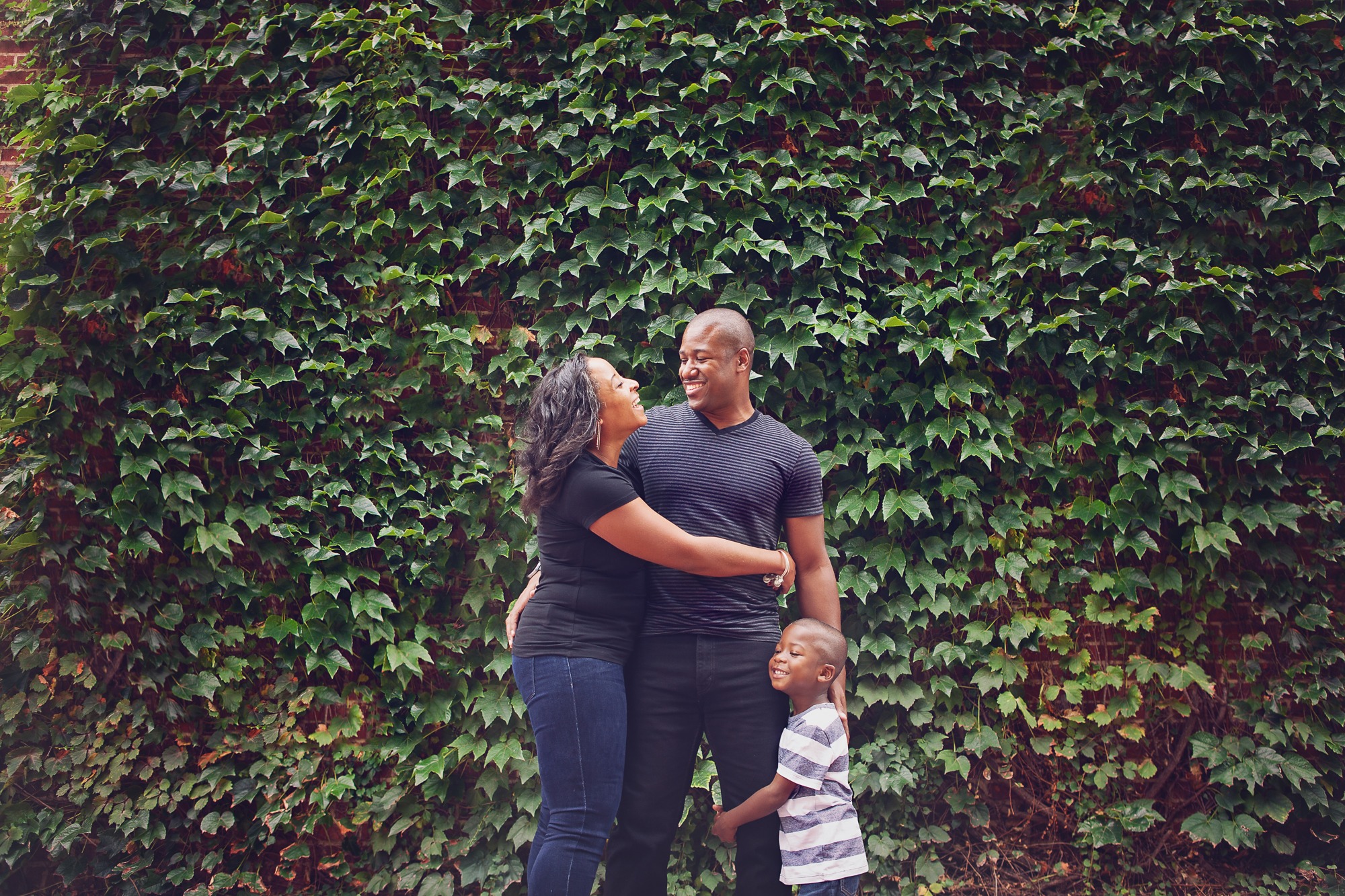 What's the dressing code?
Unless you are doing themed photo shoot, kindly remind family members to wear solid colors and to bring spare clothes if the photo session includes kids and babies. Or point them to this what to wear for a photo session guide.
Time to pack up your gear
You certainly don't want to get to the location and realize you didn't bring all parts of gear you need. So here is a reminder of essentials for family portraits gear-wise and your methods.
Wide-angle lens
Zoom lenses
Shoot in manual
Shoot raw
Shoot in continuous mode
Set the Back button focus
Extra battery
White card and reflector
It might seem like a lot of gear, but some things are just needed in order to get that "professional look". We've also covered the topic of DIY Family Portraits/Selfies vs. Professional Photos.
How to deal with the family
Every family is a world of its own. Besides making an opening connection with the group and each member, you should always remember that someone's discomfort will show, no matter how good your posing tips for photos were. So take the time to engage with them and apply some of these tips to ease up the session and take great family pictures.
Make them comfortable.
Whether it is opening conversation with some positive comments or just listening to them and respect their personality, your first job at the photo shoot is to gain family members' trust, so they can be relaxed around you. Relaxed people are the best subjects for family portraits.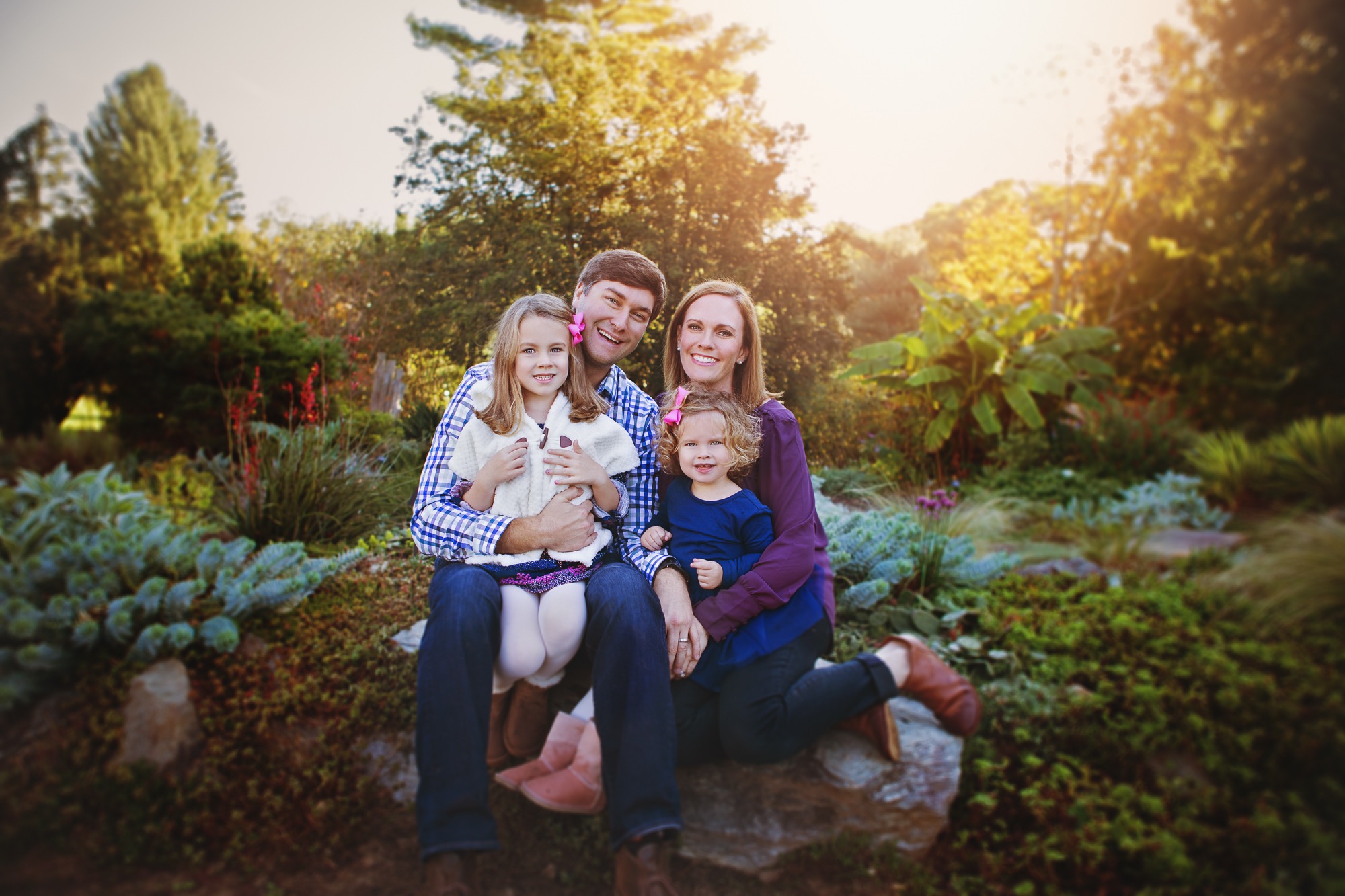 Don't make them pose for a long time
As you will see further, traditional posing is a necessary part of every successful family photography, but when posing for a long time, people start to feel unnatural, just like if you constantly give them posing tips for photos. So just remember that you are not dealing with professional models and let them take a break. This part is very welcome if there are kids at the session.
Do inner grouping
This is when your preparation and interviewing the family about relations comes in handy. Make small groups like couples, dads and daughters, mothers and sons, grandparents and kids so you can capture their interaction. You will get some breathtaking photos.
Feel the moment
Regular people usually don't know how to behave in settings like this. So you will have to encourage them to get close to each other and show affection. You might get some not so natural family pictures, but you can have at the end real treasure for the frame and wall.
Notice the details
It really helps the outcome if you are detail-oriented, so you notice the untied shoe, messed hair from the wind, an unflattering color of lipstick or dirty clothes. No one wants such subtleties to ruin a fantastic photo.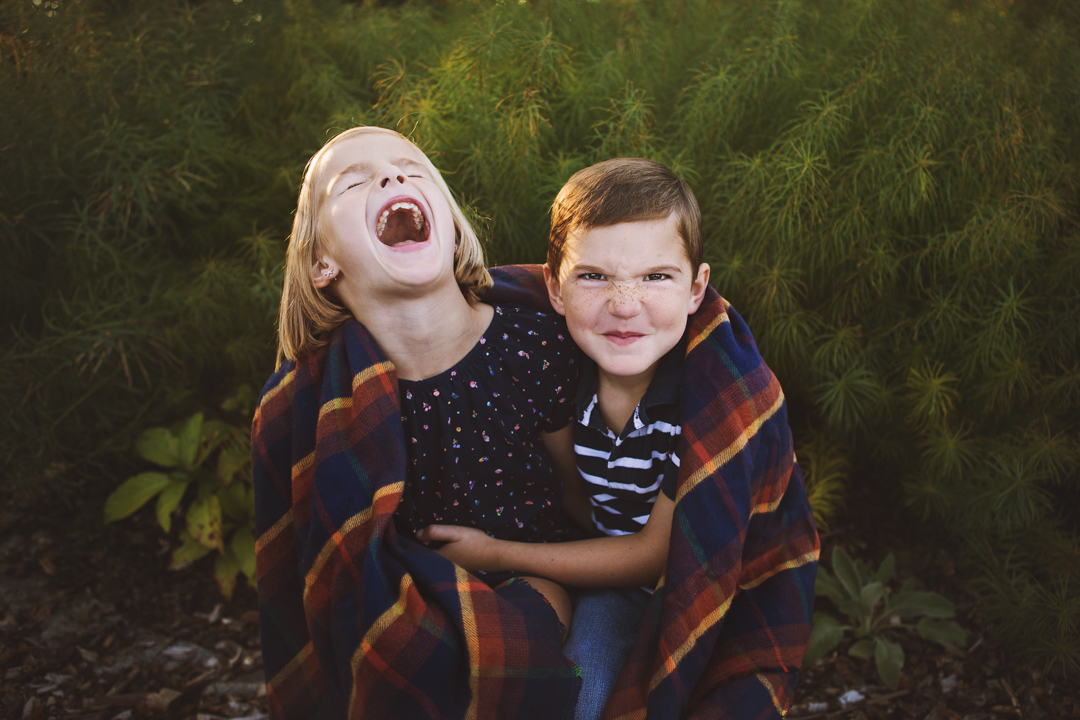 Make them smile
If you are not kind of a jokester yourself, notice who from the family is and ask them to tell a joke. You want smiling and laughter, but you don't want artificial facial expressions. Genuine smile and laughter look amazing in pictures.
Posing tips for photographers (general advice)
There is a lot of dos and don'ts considering poses and, specifically, posing tips for family portraits. Even though I always say it's better to give your clients some guidelines instead of a very precise demand for a certain pose, you should absolutely explain some specific poses and photograph the family in them. The key is that during your explanation you don't make it hard for them or be pushy.
Here's what you should have in mind while posing the family for a picture:
Larger the group, shorter the attention span
This is the rule you should always keep in mind because in these cases you can be too creative, which can lead to losing focus and giving advice that is not understandable for them. Stick to your concept, but make sure they are aware of it. Otherwise, you'll end up with an off-target result.
How to define a place for taller and shorter people?
The rule applicable for every group is that taller people should be toward the back and center, while best positioning for shorter family members is in front and on sides.
Where to focus?
Even though wide-angle lens is a must, just remember that you should see all the faces of family members. So don't let the group be too far from the camera and keep faces in focus. That's probably the simplest, yet most useful tip for excellent family photography.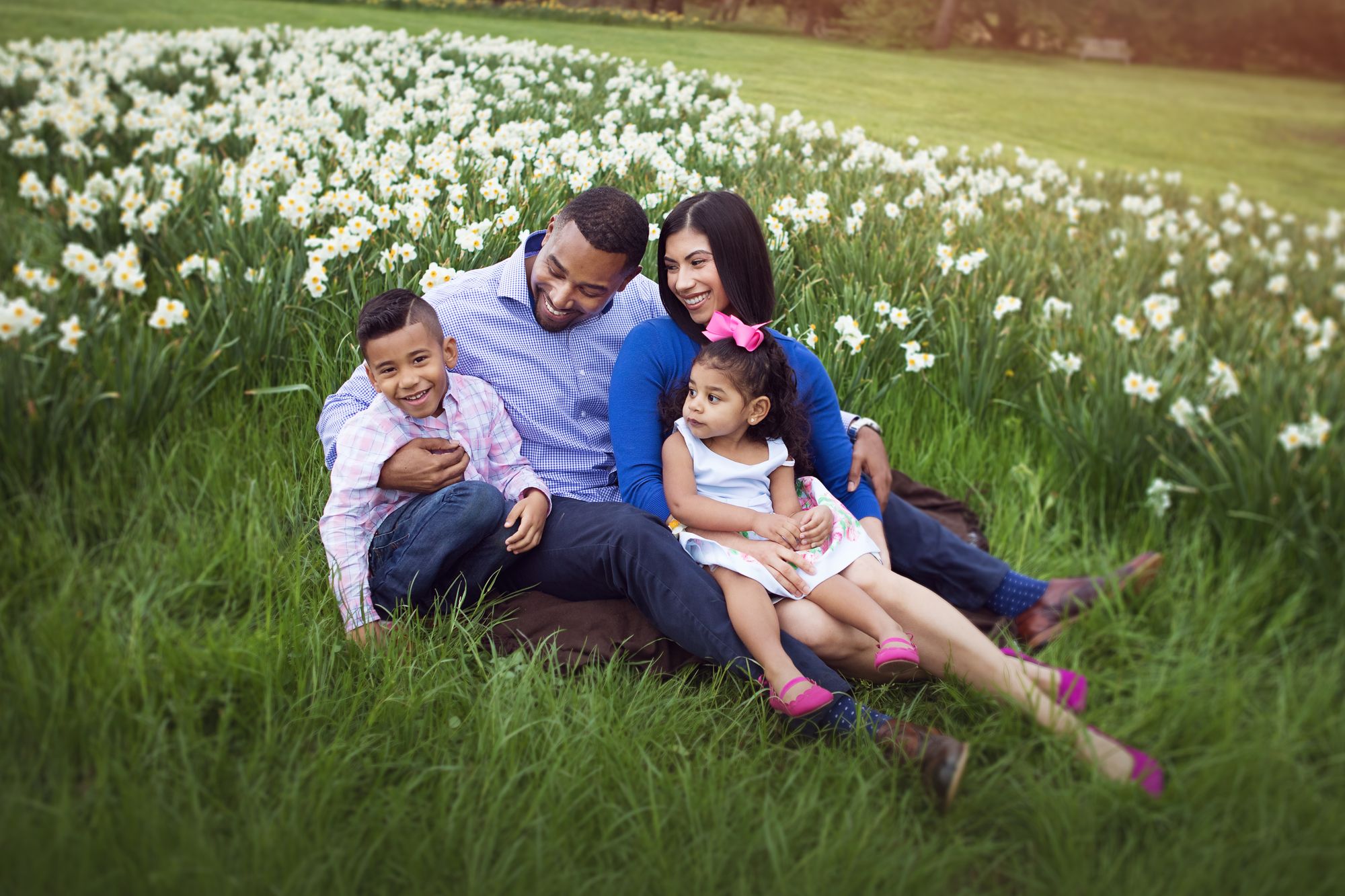 Chin up!
Yes, it's the oldest trick in the book, but it's because it works. Ask your clients to moderately extend chin towards the camera and then to lower it a bit. Not everyone has the best posture for modeling, so you have to control how their moves look during a session.
Grouping again
Ask the adults to hold toddlers and babies. Not only that you will catch their intimate energy, but you will make sure that you don't have any runaways from the picture.
The perfect location is half the job?
Well, it can be, but not necessarily. The truth is that when the location is flawless, you can focus on poses. So before you capture the moment, search for soft diffused light and aesthetic background.
You've reached a new level
Literally! When photographing just the kids, change the level, get to their eye line. Mainly, parents already have their kids' photos taken from a taller person's perspective. Don't forget to move and accommodate your shooting to their activities, so they will be natural and unforced.
Traditional posing vs. posing without poses
Start with traditional posing, especially if you have children. They are more attentive and engaging at the start, so this is the time when you can do so-called safe shots, and after that you can get creative with less posed photos and spontaneous, playful interactions. The key is to know traditional posing, but don't stick to it blindly.
If you are looking for examples of capturing the interaction between family members, you can find them in my family photos gallery.
Specific poses for family photos
That being said, here are some checked and double checked specific poses that work well on larger groups and families.
Standing, sitting and mix it up
Line-up
First instinct is usually right. Line-up is first, easiest and classic pose for families, no matter how many people you are working with. This way you ensure that all of your subjects will be equally visible and opening the aperture for this pose will make a nicely blurred background.
Instruct you clients not to stand completely straight
It's always more natural if they put their hand on the elbow, cross ankles or bend a leg in the knee.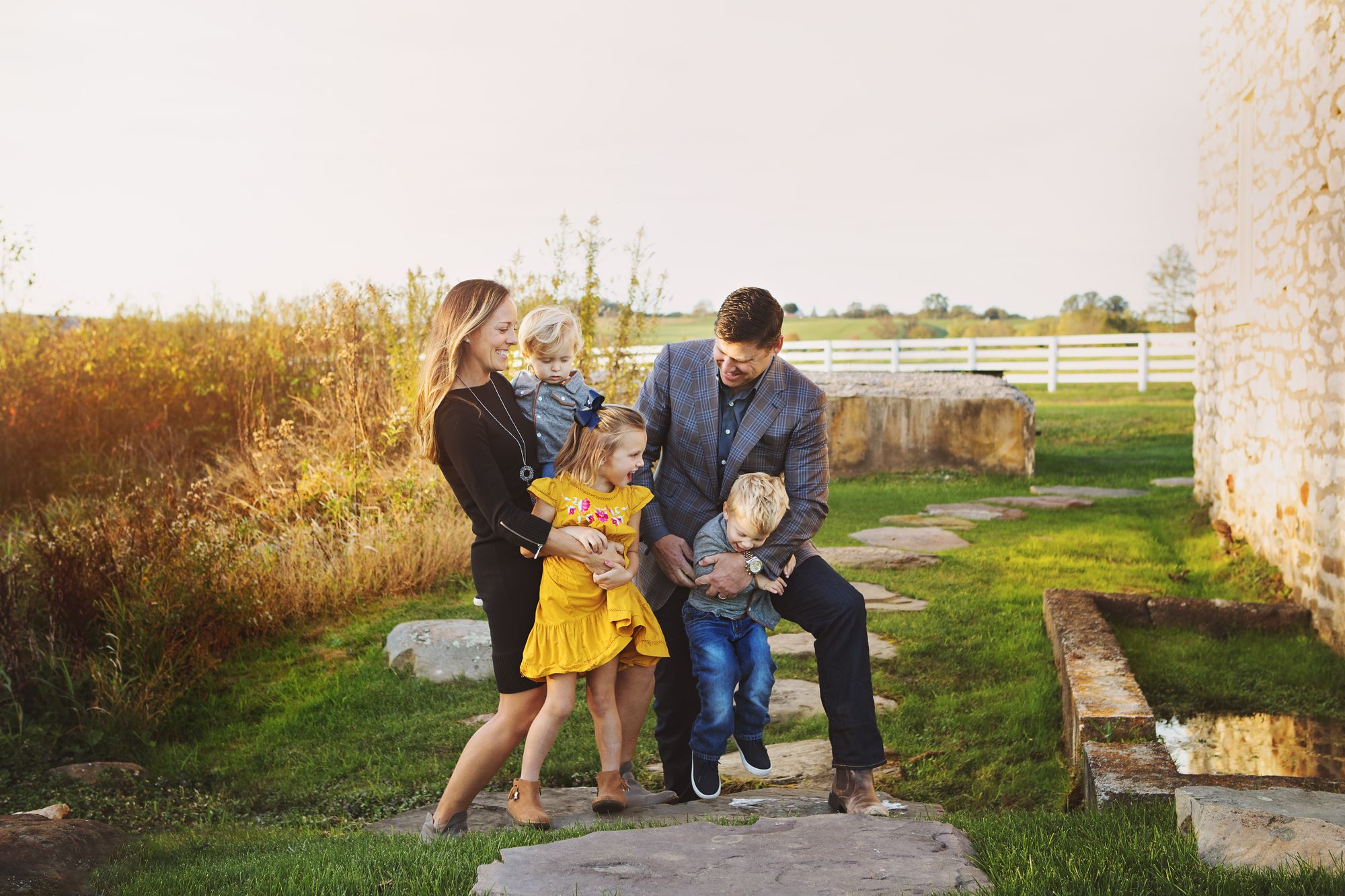 Kids first
Kids first is also a great idea when taking photos of adults and kids. Let the kids stand in front row, and adults form the second one, behind first. Just make sure that rows are close. From this pose, you can directly go to some more relaxed and tell the kids to do something fun like jump or make a goofy face.
If you have a suitable nice wall or props, you can basically line-up your subjects and while sitting. This is where all for the standing line-up works as well.
Make levels with different stages of sitting
Tallest people, for example men, should kneel in the last row, the middle row should be made of sitting women and the front row is reserved for the little ones. This is a great pose to combine standing and sitting subjects.
Create a focal point
This is ideal for families with one kid or a little baby. Put the baby in the center and ask everyone else to look at the baby. You will get beautiful, emotional photos everyone will want to put on their desk.
Rely on your location
Use all the natural tools you already have: steps, fences, rocks and walls to lean on so your result will be photos with a natural feel where location and subjects are not competing.
Un-posed photos
Completely un-posed, snap some photos after you say the shooting is done. You never know how it's going to come out, but most people are additionally relaxed knowing that posing is over.
There are more tips and tricks for fantastic family photography, including advice to make good relationship with family and setting the photo session.
A few tricks to pose family depending on number of members
Although every posing rule is relative and depends on specific family and surrounding, there are some basic guidelines on how to pose smaller and how to pose larger family for a family portrait.
Families of three to four with one or two kids
Try classic ''hand in hand'' pose where mom, dad and kid are holding hands with the kid in the middle, or use the scenario where the kid walks ahead and parents follow. A good choice is placing the kid on wall, rock, step or ledge while parents support him. A special treat can be making a train, where all members sit one behind the other, but also you should encourage them to hug, kiss a baby or lay down and snap some photos.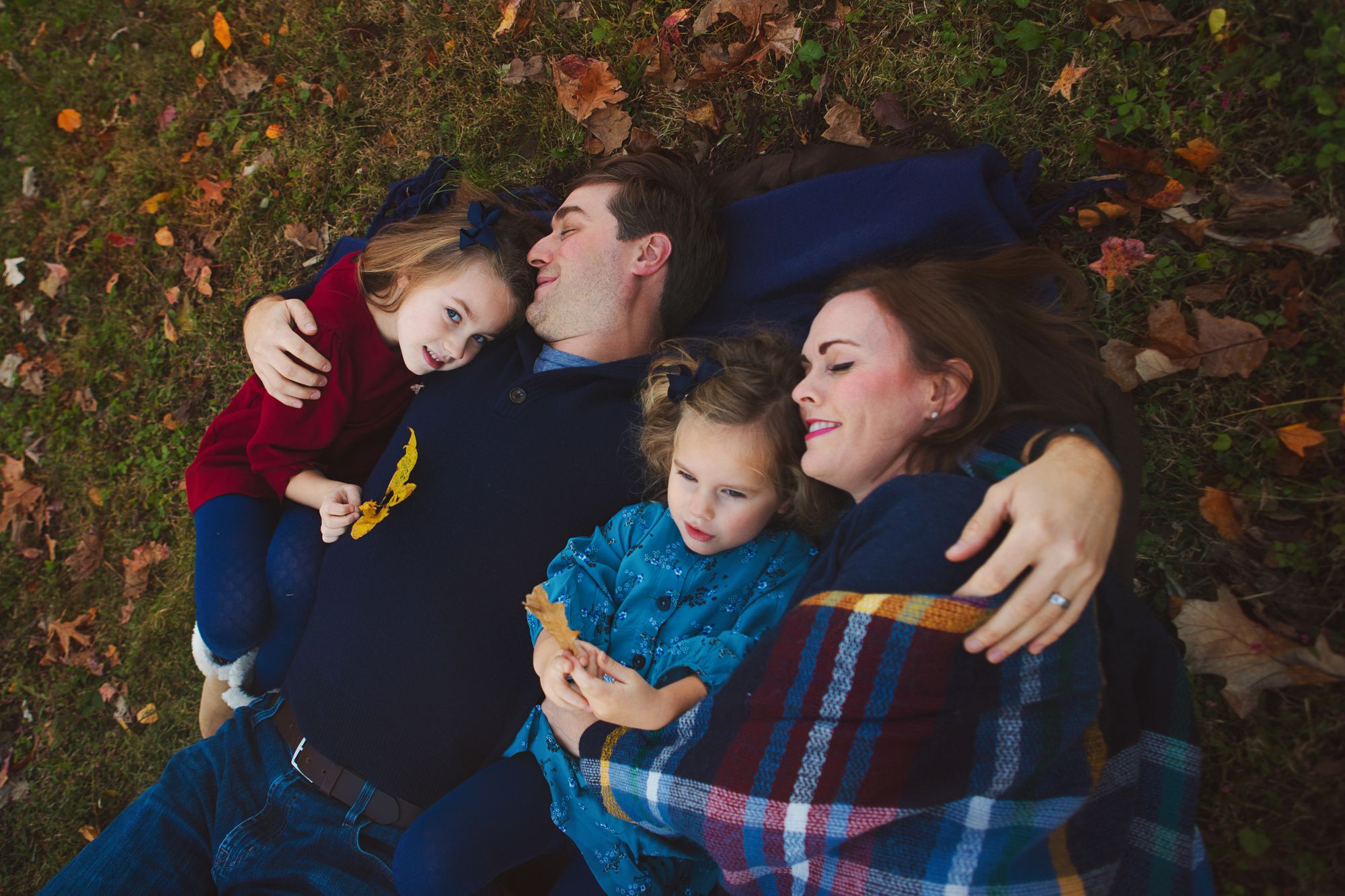 Families of five to six
Larger groups, besides classic poses listed above (train, making rows, combining sitting and standing) look great in so-called family sandwich. Ask them to put their faces together at the same level and press cheeks on cheeks.
How to pose different family roles
Each family member brings a special feat to a common picture. So you can emphasize their role with this posing tips for family portraits.
Mom and dad
They are the core of the family, so you should give them special attention. Encourage them to get close with each other and children; make photos of just mom and dad in simple positions and make sure they are next to each other on group family picture (with uncles, grandparents etc.) or on opposite sides if photographed only with the kids.
Children
Emphasize their energy and creativity by taking photos of just children, posing properly and in a relaxed mode when they can be themselves, but don't forget to accentuate the love between kids and parents by asking them to be affectionate with each other. Candid photos are a treasure in photographing the kids.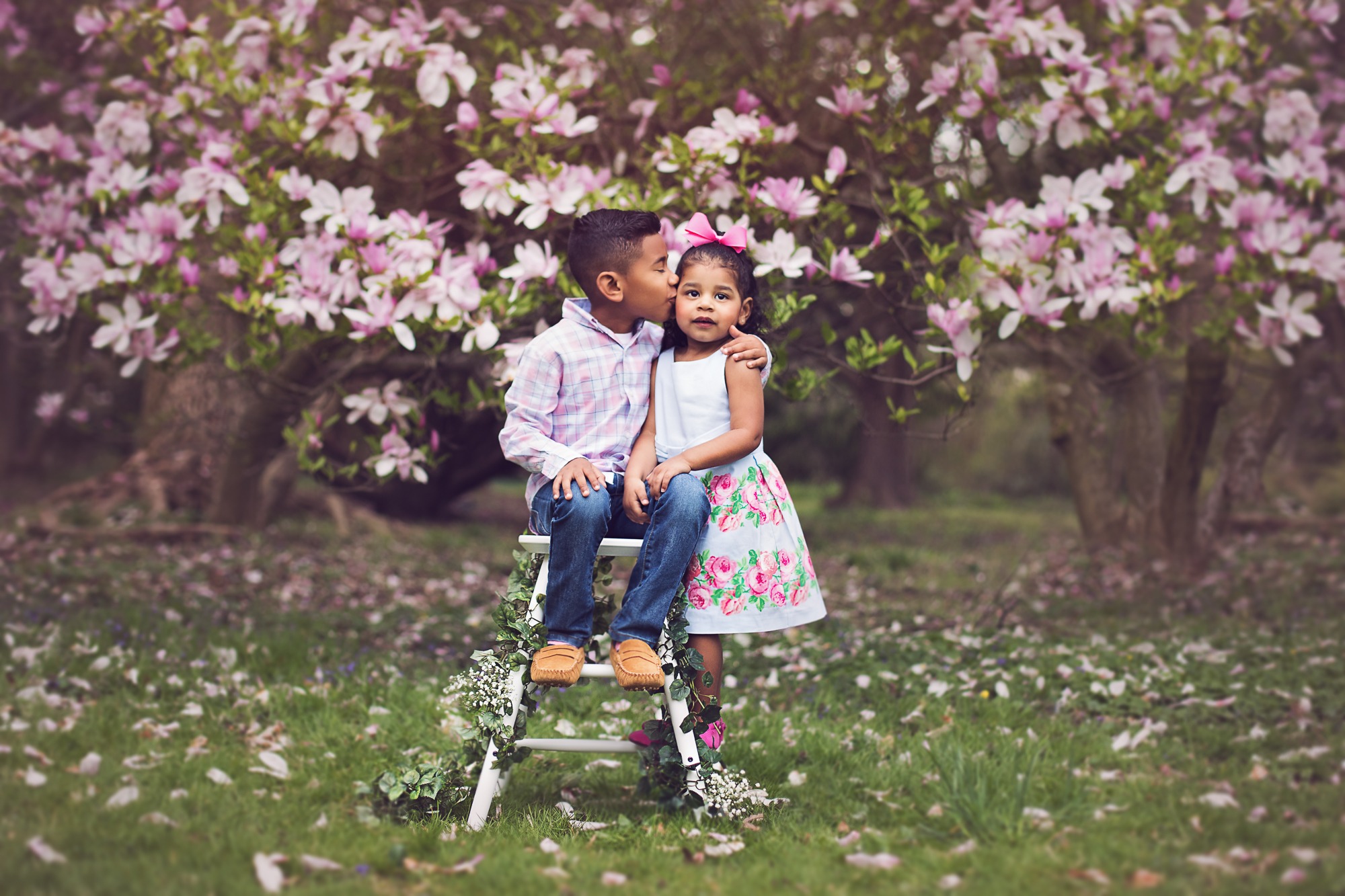 Toddlers and babies
Crucial is to capture the embraces of parents, sleeping baby face while parents are gently looking at the baby and play between toddlers and parents. It is all about celebrating the family.
Grandparents
When having a grandparent at the photo shoot, trying to contrast the generations is always a good idea. Make sure you compose pictures of grandparents and their children, as well as adding the grandchildren to that picture. Depending on occasion for the photo shoot, you can center the grandparents and ask everyone else to stand or sit around them.
Pets
They are certainly the most stubborn family members. It is mandatory to make a series of photos with pets interacting with some members and all of them, as well as capturing the pet's energy and happiness around family. Especially interesting will be pictures of children with pets.
Bonus tips for family portrait ideas
We already mentioned how location is important, but even if you have the perfect spot, ask yourself if location suits the family. The place should never distract from people.
Avoid taking pictures at noon and under the shadows moving across people's faces. If possible, always shoot in the evening or in complete shade.
Even if you are certain you took an amazing photo, do it again. Take multiple shots because some details you can see when it's too late, in post-processing.
Shoot close-ups. Yes, it should be about the family, but some candid expressions can find their way to someone's wall.
Always make sure that all the faces are equally visible, so shot from above to achieve that.
Make sure everyone's heads are showing. Large groups are challenging for photographing, so always check if everyone's head is in the picture.
To conclude, there is no one right or wrong way to do family photography, just like there are no rules when it comes to family dynamics, no matter how much you prepared. All you can do is learn, make your own rules and have patience.
If you're searching for some inspiration for family picture poses, outfits and locations, you can also follow me on Instagram.